About me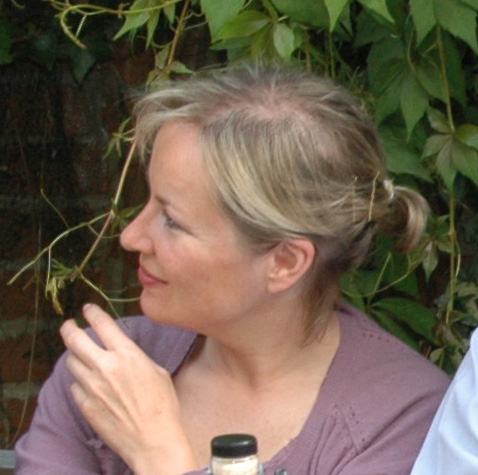 Gastro-detective Dr Fiona Ross teaches English teacher in a Catholic Girls' School in leafy Oxford: her walks to school are plagued by squirrels who drop acorns on her head; magpies (always alone for bad luck); and girls who have no better ambition than to spy on their English teacher. She has one child, a daughter whose middle name is Merlin -- after the wizard of course! Like most adults, Fiona leads a double-life: her (damnably attractive) double works as a gastro-detective whose headquarters is the famous Bodleian Library; she spends her time there pondering what sandwich filling she would prefer for lunch when she is not hot on the trail of a famous or infamous gastronome. Her set of cookery books, 'Dining with Destiny', were the result of just such weighty thoughts – oh, and a take on history which means she can never recall anything boring like the date of a war but can always be counted upon to remember how much jam Marx liked on his tarts.  Time will tell which is the more important. Furthermore, Fiona writes young children's fiction, adult short fiction and is developing a trilogy of children's novels set in an amalgam of Victorian London and the Roman Empire, ruthlessly dominated by a eugenicist senate, 'The Orcus Men'. Sybils, witches in bottles, Resurrection men and Soft-Shoed-Silas feature in this tale of derring-do. Her patient and kindly literary agents are Peter Cox and Barbara Gorna of Redhammer.  Previously, Fiona taught English, Communications and Women's Studies at universities and colleges in Scotland; her PhD explored cultural representations of Victorian spinsters and Suffragettes. She has never tried to be published before – she was too busy with life and being a cook and a pirate (in other words a reasonable single Mum) till now. She is now 38 and feels it on account of having spent too much time as a cook instead of as a pirate!  Fortunately, 'Dining with Destiny' has revealed to her one of the great mysteries: how to be both.
Dining with Destiny
DINING WITH DESTINY -- Synopsis

If you've ever wondered what Lenin lunched on, or whether Marie Antoinette really liked cake, the 'Dining with Destiny' cookbook series will satisfy both your curiosity and your appetite. These 11 small volumes are food biographies, containing a host of recipes and accompanying anecdotes which bring the culinary tastes of the famous and infamous to your own dinner table. The 'Dining with Destiny' series is intended to have cross-genre appeal to the many readers with an interest in eating their way through the social comedy of food. There is a book to suit the interests of every reader. Based on the findings of a gastro-detective, each A5 sized volume contains a set of key icons drawn from various spheres of life and history, thematically grouped and chosen to appeal to a transatlantic readership; thus not limiting the books' appeal to a solely British audience. Nor will they attract solely 'foodies' but will make great bedtime reading for a wide and eclectic readership who will be drawn, in part, from those with interests in particular types of icons, rather than in the recipes related to them. 'Dining with Destiny' should, then, be published simultaneously and sold in 6 separate volumes (with perhaps five of the eleven coming out some months later). However, they should not be sold as one large volume, as this diminishes their ability to appeal to very diverse sections of the public who would prefer to opt for just one or two of the subject areas laid out in the series. Pictures of icons grace the real-life anecdotes and recipes. The 'Dining with Destiny' internet domain would enable readers to track down their icons and leave their own accounts of eating at posterity's table. The series' findings are based on extensive research at the Bodleian Library in Oxford. If 'Dining with Destiny' cannot tell the reader what Stalin ate to celebrate the development of the A-Bomb, then Stalin went supperless. Let's face it, love them or loathe them, most of us would love to know what our favourite icons eat: but we never get the chance. The 'Dining with Destiny' series literally has something for everyone. Sports fans can look up their favourite footballer or cricketer in 'The Bold and the Beautiful' and read hilarious accounts of their take on what's eatable. For a treat, they can cook up Ian Botham's chicken curry or Pelé's empanadas. Monarchists can have an authentic Balmoral picnic courtesy of 'The Upper Crust'; lovers can share a Dodi and Di supper. Mistresses could try out a Wallace Simpson raspberry souffle on the man they want to catch. Or who could resist a Valentine's meal cooked up by Casanova? A novel way of teaching your child the terrific suppers of social history can be found in 'Who's Been Eating My Porridge? Soon, the little darlings will be cooking you up Nero's leeks – for breakfast. 'Power Lunches' and 'Meals with a Bang' appeal to every political perspective: would-be revolutionaries can make Nelson Mandela's Robben Island seafood stew or bite into Marx's jam tarts. After an evening watching 'The Motorcycle Diaries' you can top up your appetite for Che Guevara with a dish of the humitas he ate in Bolivia. Or how about an anarchic barbeque chez Saddam? 'Power Lunches' and 'Political Steaks' expose hitherto unknown facts to the public – for instance the Nazi-fuelled myth of Hilter's vegetarianism; when we find out that Hitler liked a bit of leg (the feathered kind) a crucial hypocrisy is laid bare. Or, at a more personal level, if there's dictator in your life then what better gift can they receive than their very own 'Dishes for Dictators'? The silver screen shimmers and simmers in a whole new way with 'Some Like It Hot' and all that it reveals about Marilyn's last supper, John Wayne's Peruvian wooing or Deitrich's soup to cure the blues. 'Lyrical Lunches' offers music lovers the opportunity to serve up Satchmo's recipe for rice and beans while 'The Cleft Palette' allows arty types access to Picasso's kitchen. Horoscope readers will want to know all about Nostradamus' cherry jellies and his uncanny pig prediction in 'Name Your Poison'. Even Satanists get a look in at Aleister Crowley's table. But we advise no one to try making the Marquis de Sade's compromising bonbons! Those who want to tie the knot Madonna-style need look no further than 'Merry Wives and Gorging Grooms' to replicate the same wedding feast. If you are a regular both at the altar and in the divorce courts then Liz Taylor's many weddings allow you to eat your way up the aisle -- as many times as you would wish.